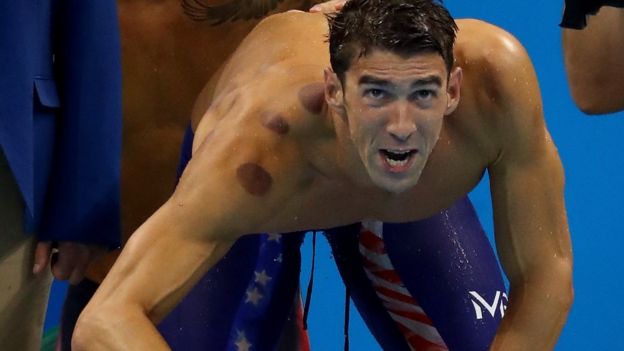 (click below to read)
http://www.bbc.com/news/health-37009240?ocid=socialflow_facebook&
WHAT IS CUPPING?
Cupping Therapy is the method of using glass or plastic cups to create localized pressure by a vacuum. The Chinese have been doing this since ancient times by using heat inside glass or bamboo cups. Nowadays cupping sets use suction to create vacuum. The vacuum inside the cups causes the bl
ood to form in the area and help the healing in that area.
Ancient Chinese medicine have believed that the body contains Meridians. These meridians are pathways in the body which the energy of life called Qi ("chi") flows through. It flows through every body part, tissue. and organs.

Another healing aspect of cupping therapy is through the release of toxins in your body. The suction from the cups can penetrate deep into your tissues causing the tissues to release harmful toxins. It triggers the lymphatic system, clears the blood vessels, and stretches and activates the skin.
Cupping therapy has been found in ancient records dating back 3500 years and it is still used today by many Acupuncturist Physicians and Doctors of Chinese medicines.
NOTE: As there are cautions and contraindications with any treatments modalities, only highly trained and knowledgeable practitioners such as Acupuncturists and Chinese medicine Doctors should be performing such treatments.

New advancement in technology and materials have been integrated with cupping therapies and its uses now range for many different treatments and applications.
CUPPING CRAZE GOES HOLLYWOOD
AT HEALTHIER YOU WELLNESS CENTER, EACH TREATMENT IS CUSTOM DESIGNED TO MEET OUR PATIENT'S INDIVIDUAL NEEDS AND PROVIDES THE UTMOST COMFORT AND CARE TO SUPPORT THE HEALING PROCESS.
Give her a call today and start your journey towards A HEALTHIER YOU.
TO SCHEDULE AN APPOINTMENT, PLEASE CALL

DR. DEBORAH CORRENTE AP, DOM, CHT

@ 954-826-9690